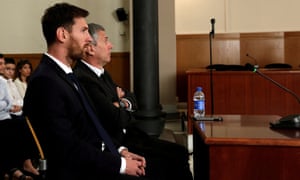 Lionel Messi has been sentenced to 21 months in jail for tax fraud by a Spanish court.
Under Spanish law any sentence under two years can be suspended meaning the Barcelona and former Argentina footballer is expected to avoid serving time in prison.
But the prison sentences are likely to be suspended as is common in Spain for first offences for non-violent crimes carrying a sentence of less than two years.
The Barcelona court found the Argentina international and his father Jorge Horacio Messi guilty of using companies in Belize, Britain, Switzerland and Uruguay to avoid paying taxes on 4.16 million euros of Messi's income earned from his image rights from 2007-09.
The income related to Messi's image rights that was allegedly hidden includes endorsement deals with Danone, Adidas, Pepsi-Cola, Procter & Gamble and the Kuwait Food Company.
The court found Messi and his father, who has managed his son's affairs since he was a child, guilty tax fraud and ruled that for each of those three years they should serve a sentence of seven months.
Messi, 29, a five-time world player of the year, was also fined 2.09 million euros while his father was fined 1.6 million euros.
They can appeal the decision to Spain's Supreme Court.
"FC Barcelona gives all its support to Leo Messi and his father with relation to the sentence for tax evasion handed out by the Provincial Court in Barcelona today,"read a statement from the Spanish champions.
"The Club, in agreement with the Government prosecution service, considers that the player, who has corrected his position with the Spanish Tax Office, is in no way criminally responsible with regards to the facts underlined in this case.
"FC Barcelona continues to be at the disposal of Leo Messi and his family to support him in whatever action he decides to take in defence of his honesty and his legal interests."
Messi told the court during the four-day trial that wrapped up on June 4 that he trusted his father with his finances and "knew nothing" about how his wealth was managed.
Prosecutors had asked for Messi to be absolved, arguing there was no evidence that the player was aware of how his income was managed.
But the state attorney representing tax authorities in the trial, Mario Maza, said he found it unlikely that Messi knew nothing about the situation.
"There is no deliberate ignorance here, it's fraud and that's all there is to it, because he didn't want to pay his taxes," he said.
"It's like a crime boss. At the very top is the bigwig who doesn't want to know about the details."
The court agreed, arguing in its ruling that Messi "had decided to remain in ignorance".
"Despite all the opportunities available to the player to show interest in how his rights were managed, he did not," the court added.
The court said if the player was not punished, "ordinary" citizens could conclude that it was better to "not show interest" in their tax obligations.
Messi's tax fraud trial has taken place against a backdrop of simmering voter anger over steep cuts to health and social spending, as the government struggles to bring Spain's public deficit down.
The player and his father made a voluntary payment of 5.0 million euros -- equal to the amount of the alleged unpaid taxes plus interest -- in August 2013 after being formally investigated.
After the court delivered its verdict, Barcelona issued a statement "giving all its support to Leo Messi and his father".
"The club, in agreement with the government prosecution service, considers that the player, who has corrected his position with the Spanish tax office, is in no way criminally responsible with regards to the facts underlined in this case," it added.
Messi is Barcelona's all-time leading goalscorer.
His verdict comes just six months after a Spanish court handed Barcelona's Argentine midfielderJavier Mascherano a one-year suspended sentence for tax fraud.
He was found guilty of avoiding paying taxes on 1.5 million euros of income related to his image rights.
Barcelona in June agreed to pay a 5.5-million-euro fine in a deal with prosecutors that sees the club avoid trial on tax evasion charges over its signing of Brazilian striker Neymar from Santos in 2013.
Last week Spanish authorities disclosed that Brazilian international defender Dani Alves owes 1.3 million euros in overdue taxes and late payment fines.
Alves left Barcelona in June after eight seasons to join Italian side Juventus
.